Z5660M Nixie Tubes Clock in a Vintage Wooden Case [RGB, USB, Musical] [with Columns and Sockets] [Temp. sensor]
Units Sold: 1
Model "Divergence Meter Z"
Nixie Clock in Wooden Case with Columns and Sockets
Designed for 6 Z5660M / Z566M / ZM1042 / ZM1040 Tubes
Z5660M Tubes are one of the biggest mass-produced Nixie Tubes
Nixie Clocks are one of the most beautiful and popular Vintage Clocks
Clock features Startup Tune, RGB backlight, USB port for updates
External Temperature sensor with 3.5 mm jack included with the Clock
Plugable Accessories include compact external Temperature sensor
Nixie Clock is fully compatible with Arduino platform program codes
It allows you to write your own uniqe programs for the Arduino platform
All the latest Source codes are always available on our GitHub channel
PCB, Design, Schematics, Case and Software made by GRA & AFCH
$299.95 – $759.95
Z5660M Nixie Tubes Clock in a Vintage Wooden Case with Columns and Sockets
Model "Divergence Meter Z"
Nixie Clock in Wooden Case with Columns and Sockets
Designed for 6 Z5660M / Z566M / ZM1042 / ZM1040 Tubes
Z5660M Tubes are one of the biggest mass-produced Nixie Tubes
Nixie Clocks are one of the most beautiful and popular Vintage Clocks
Clock features Startup Tune, RGB backlight, USB port for updates
External Temperature sensor with 3.5 mm jack included with the Clock
Pluggable Accessories include compact external Temperature sensor
Nixie Clock is fully compatible with Arduino platform program codes
It allows you to write your own unique programs for the Arduino platform
All the latest Source codes are always available on our GitHub channel
PCB, Design, Schematics, Case and Software made by GRA & AFCH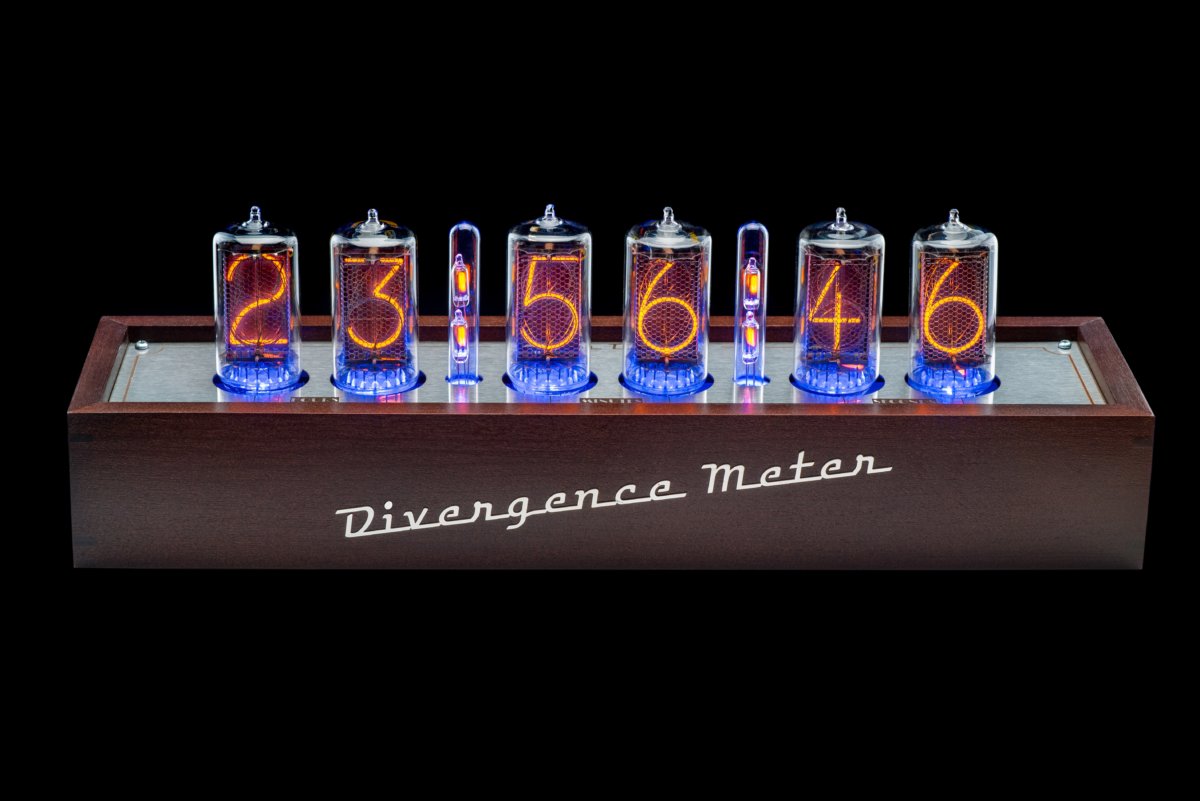 Listing includes:
Nixie Clock in Wooden Case with Columns and Sockets
Z5660M Nixie Tubes – 6 pcs (optional, choose in selector)
Temperature sensor (DS18B20) (included, external with jack 3.5)
Power Supply (12V, 1A) (US, EU, UK, AU) (included, optional AC plug)
User Manual on a Vintage style paper
Temperature sensor is included with the Clock
Power Supply is included with the Clock
Nixie Clock designed for Z5660M / ZM1042 / ZM1040 / Z566M Tubes
We offer optional accessories for Nixie Clocks:
Our Benefits:
A special Socket for each pin of Z5660M – easy to change Tubes.
Easy to customize firmware under Your own needs, thanks to an open platform – Arduino.
Fast uploading via USB.
The latest version of the firmware always available on GitHub.
No need to download drivers – we are use only Genuine USB to serial converters (FTDI FT230).
Drivers for them pre-installed in all popular OS: Windows, MacOS, Linux.
Human friendly menu.
Very high quality of Printed Circuit Boards.
Japan alluminum capacitors.
Power-On Self-Test.
Competent Technical support
Main Features:
Clock uses the hugest Nixie Tubest Z5660M – 6 pcs.
Date format: [DD:MM:YY]; 12/24 hour format: [HH:MM:SS].
Slot Machine (Anti poisoning – tubes saving function. Increases the service life).
Unique RGB LED backlight with 16,7 million colors. Possible to choose any constant color off backlight LED and memorize it. Or you have option for a cyclic full spectrum color change!
Switching on/off LED backlight in the matter of seconds.
As alarm sound clock uses standard RTTTL (Nokia format) melodies, so you can easily change it (included songs: Mission Impossible, We Wish You…).
Easy updating firmware via USB using Arduino IDE.
Software based on Arduino Sketch, so MCU has Arduino bootloader within.
Power On Self-Test (POST): LED backlight, tubes and sound. You can check firmware version at the end.
Unique detailed tube test – our soft check each segment on every lamp. Distinguishable to see segment failure.
High quality PCB and components. We use Japanese aluminum capacitors only (Nichicon, Panasonic).
Clock use 12 V/1 A Power Supply INCLUDED in package. Working on 100 – 240 VAC input.
You can choose between: US, EU, UK, AU plug.
Dimensions: 340 mm x 90 mm x 112 mm (13.4in x 3.54in x 4.4in)
Vintage style Wooden Case for Z5660M Nixie Tubes Clocks
All of our Wooden Cases are handmade and produced by the craftsman from our own team.
He is experienced carpenter and have a longstanding work with wood of over 30 years.
We use a maple, alder and oak for our Wooden Cases.
We approach to process of preparing the material with big responsibility.
This process includes scrupulous selection, drying in at indoor temperature of about 25 celsius for a 60 days.
Some other craftsman use fast drying in special chambers for only 8 days but are not.
Long drying gives better material quality.
Then all the details are made on the joinery machines.
And then final crafting is done with tools individually so each detail is a handmade.
Then comes the varnish coating in four stages during next 14 days.
This gives the best result in coating of every detail.
Also it is worth mentioning that all decorative plates of the Cases are made of Stainless Steel with laser engraving.
All the control buttons and switches of the Cases are also made of stainless steel.
IN-18 (similar to Z5660M) Nixie Tubes Clock Divergence Meter by GRA & AFCH
Z5660M Nixie Tubes Clock Divergence Meter by GRA & AFCH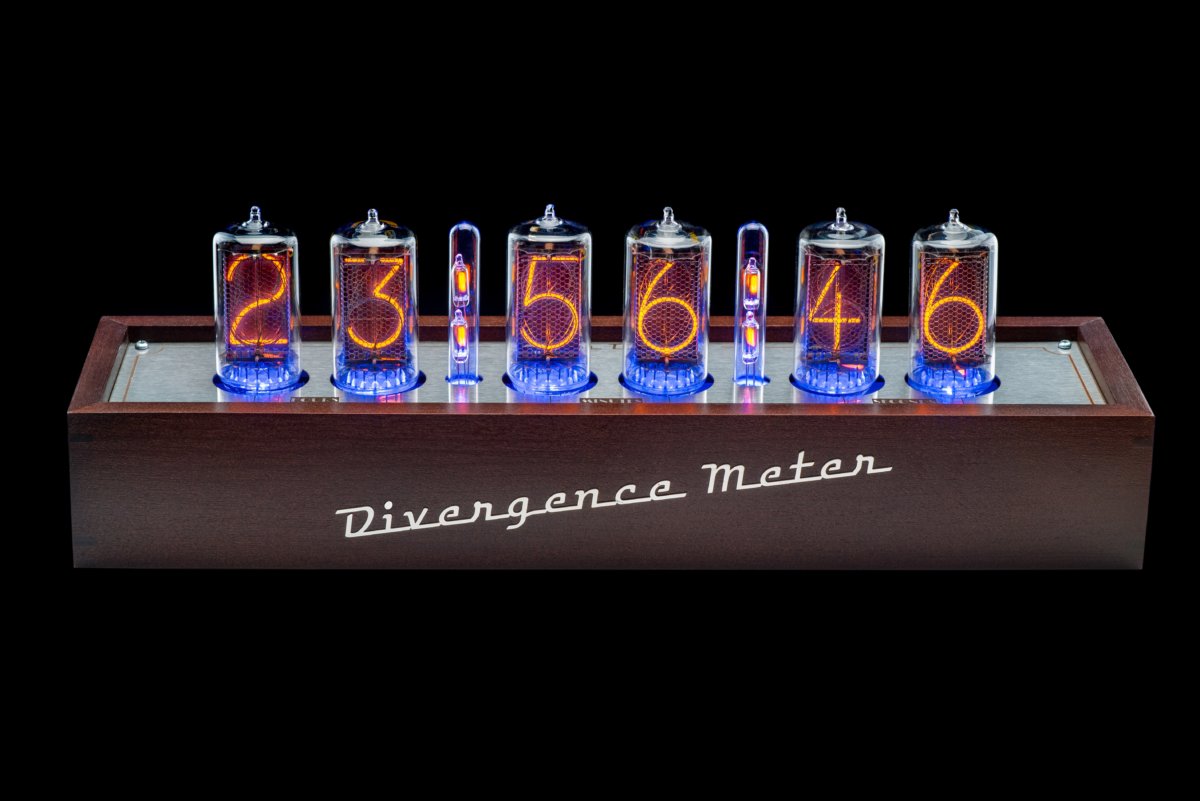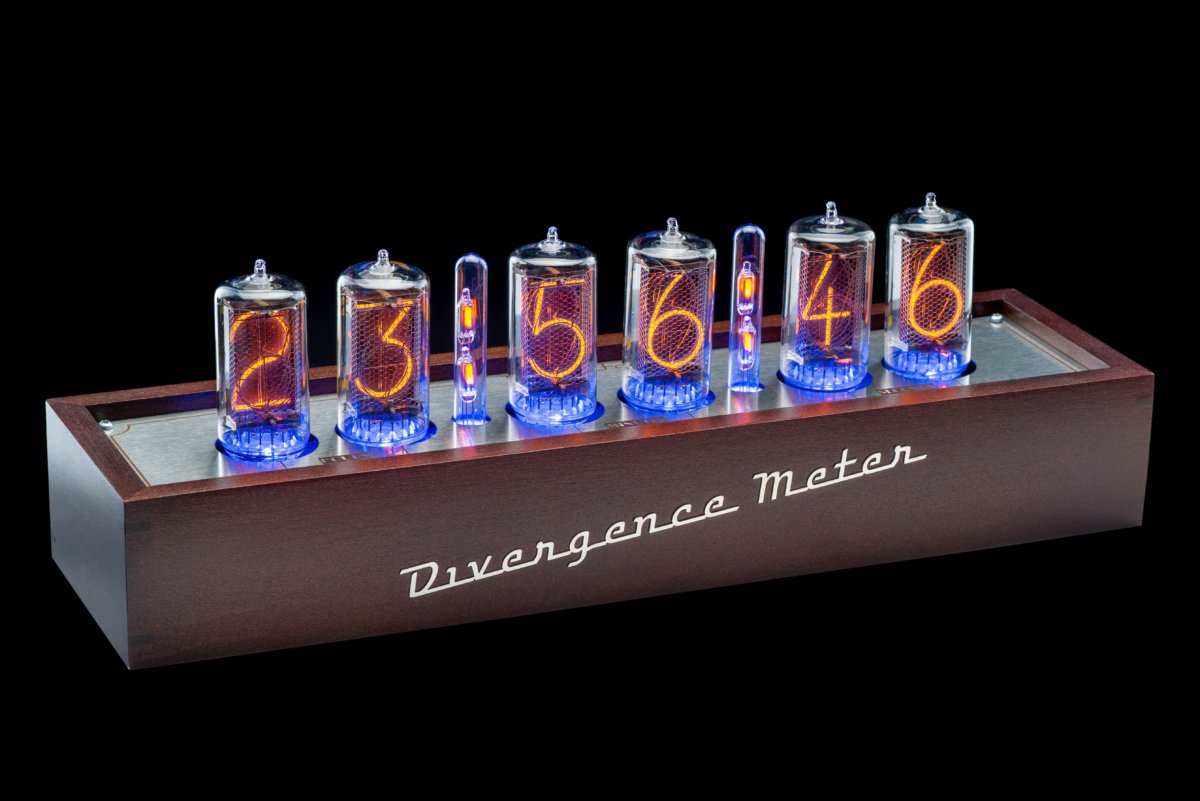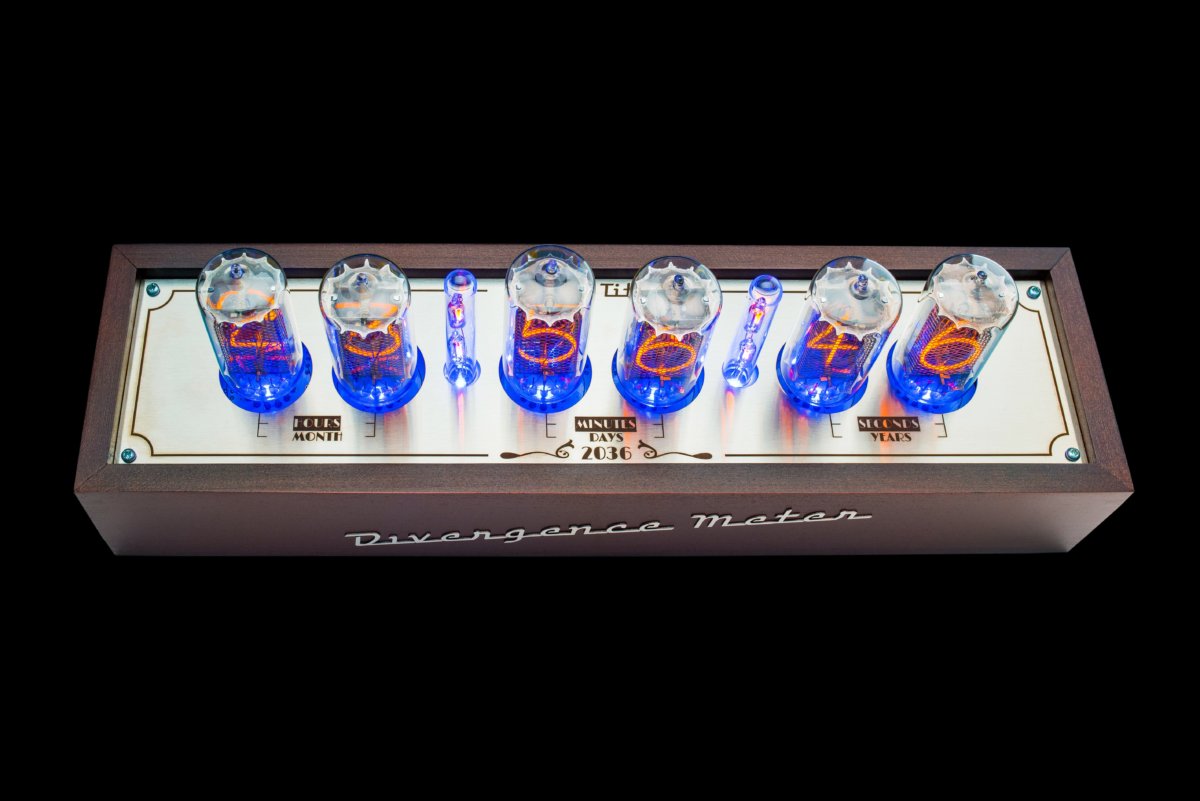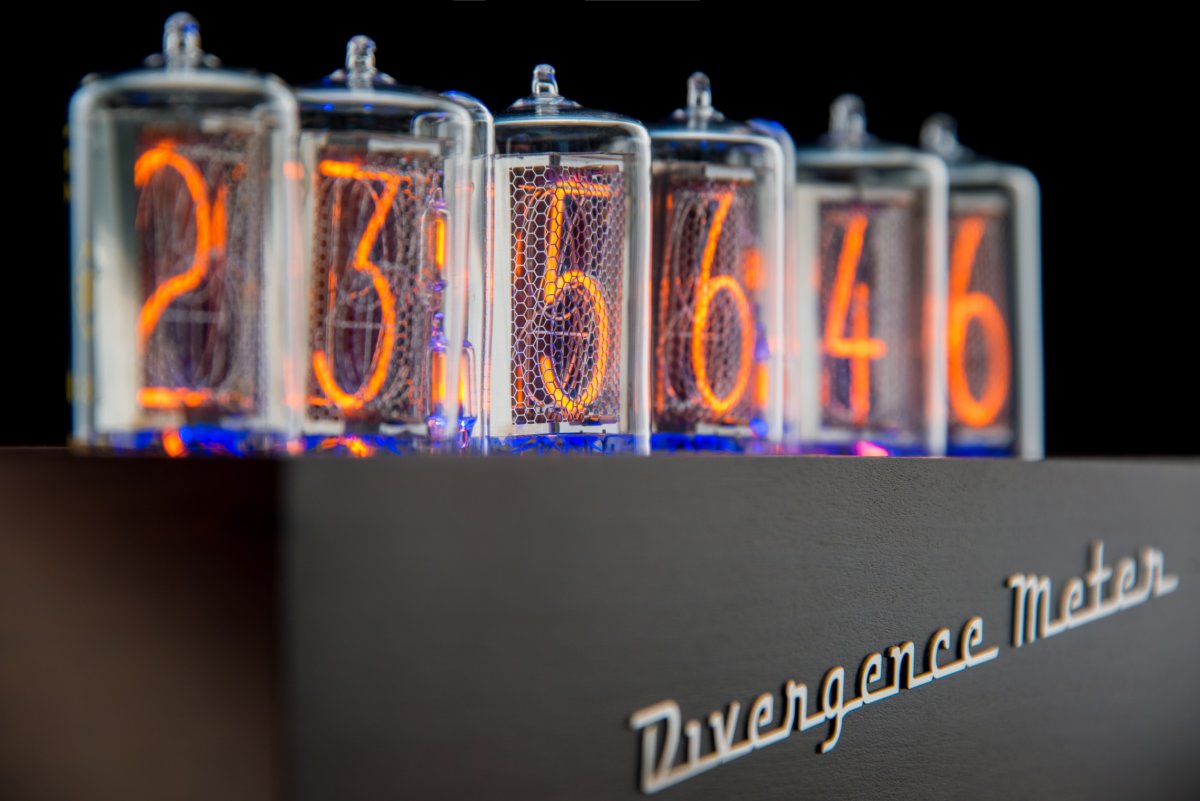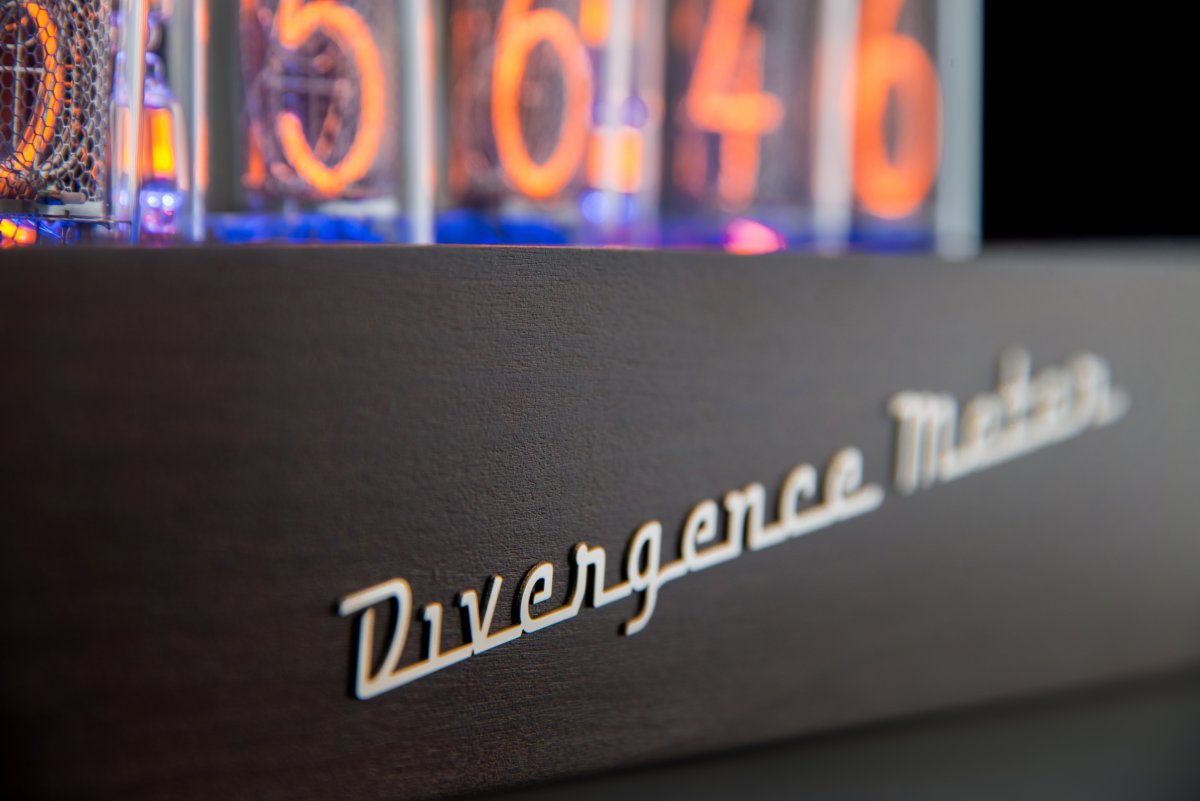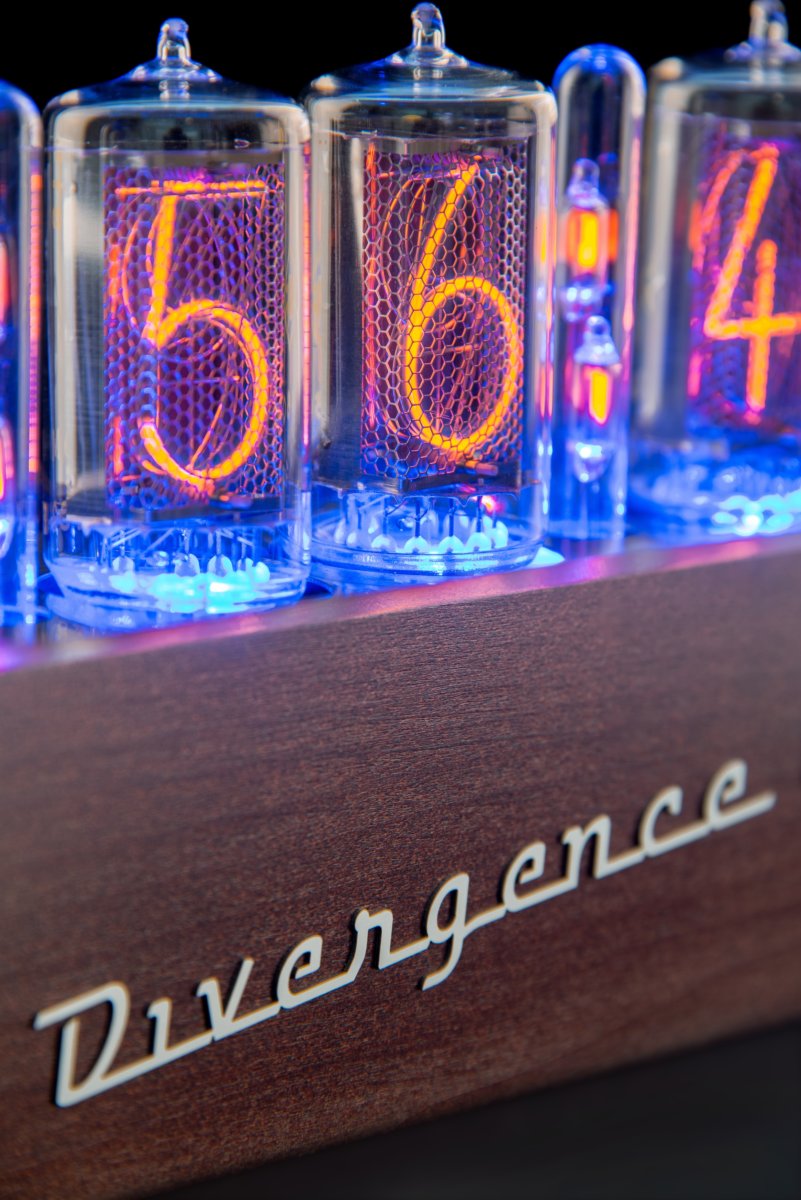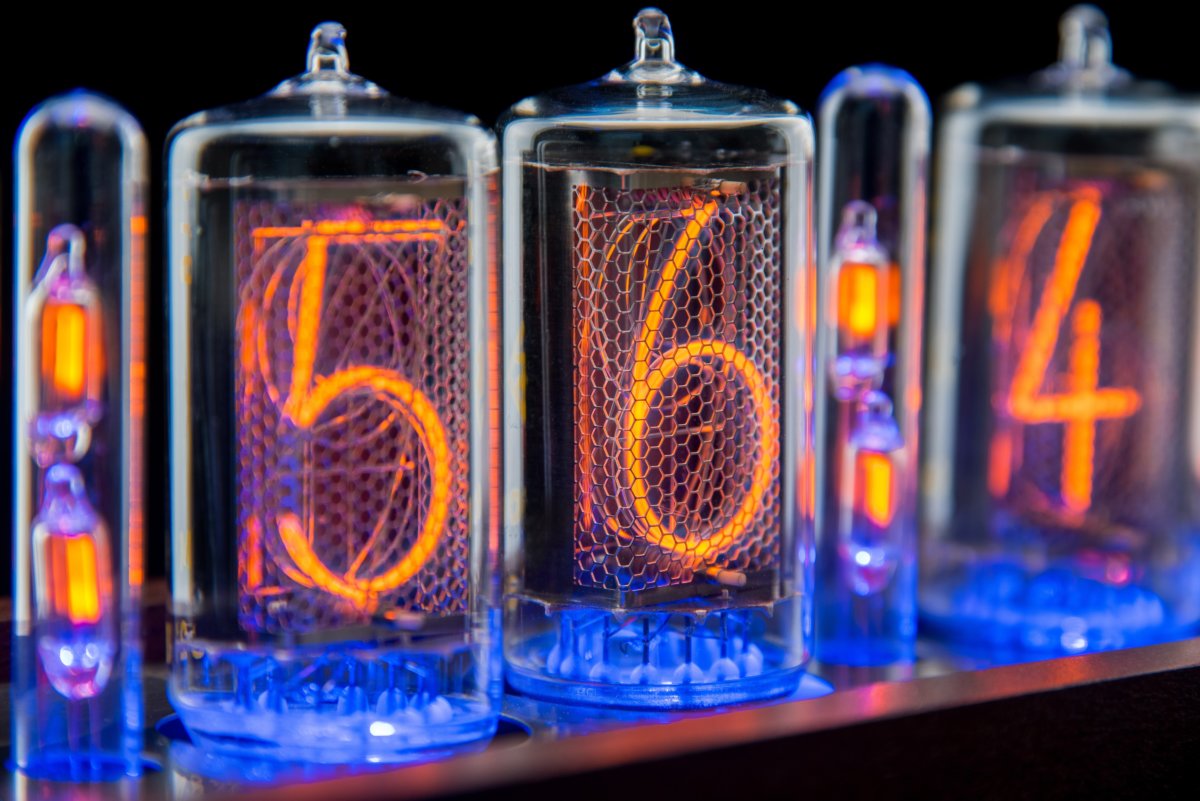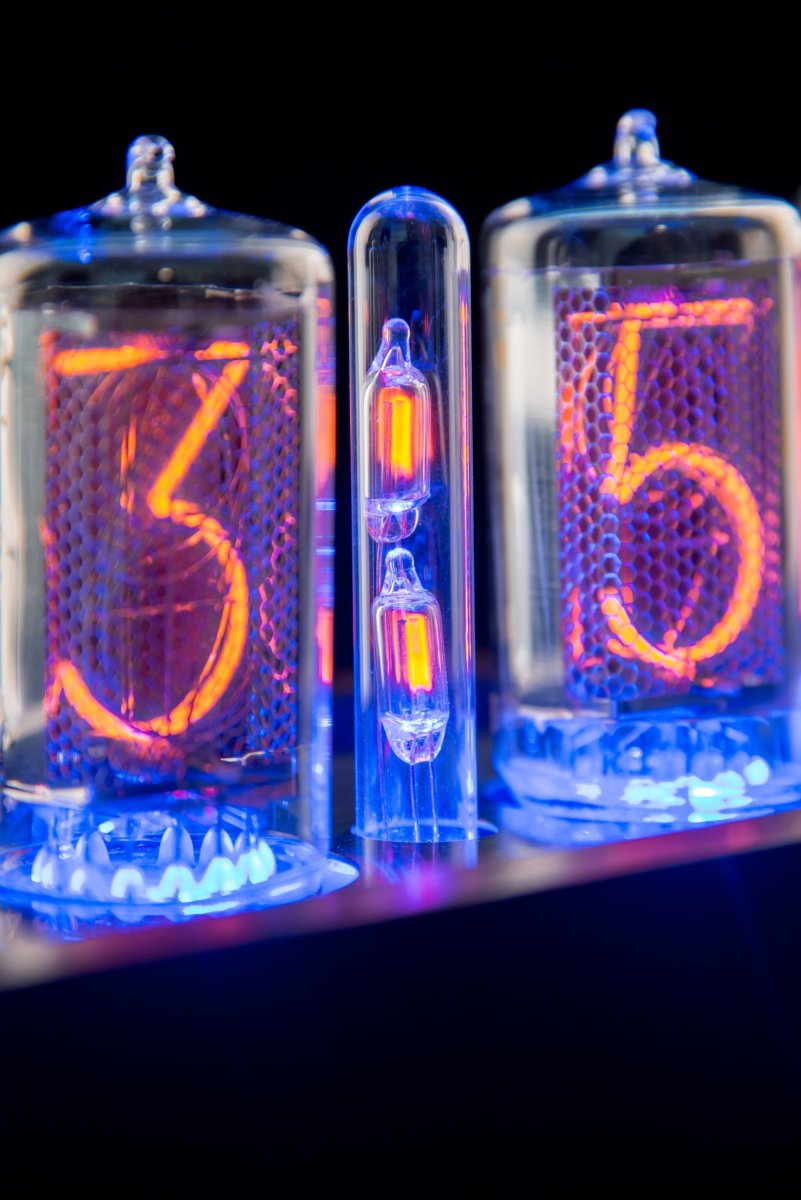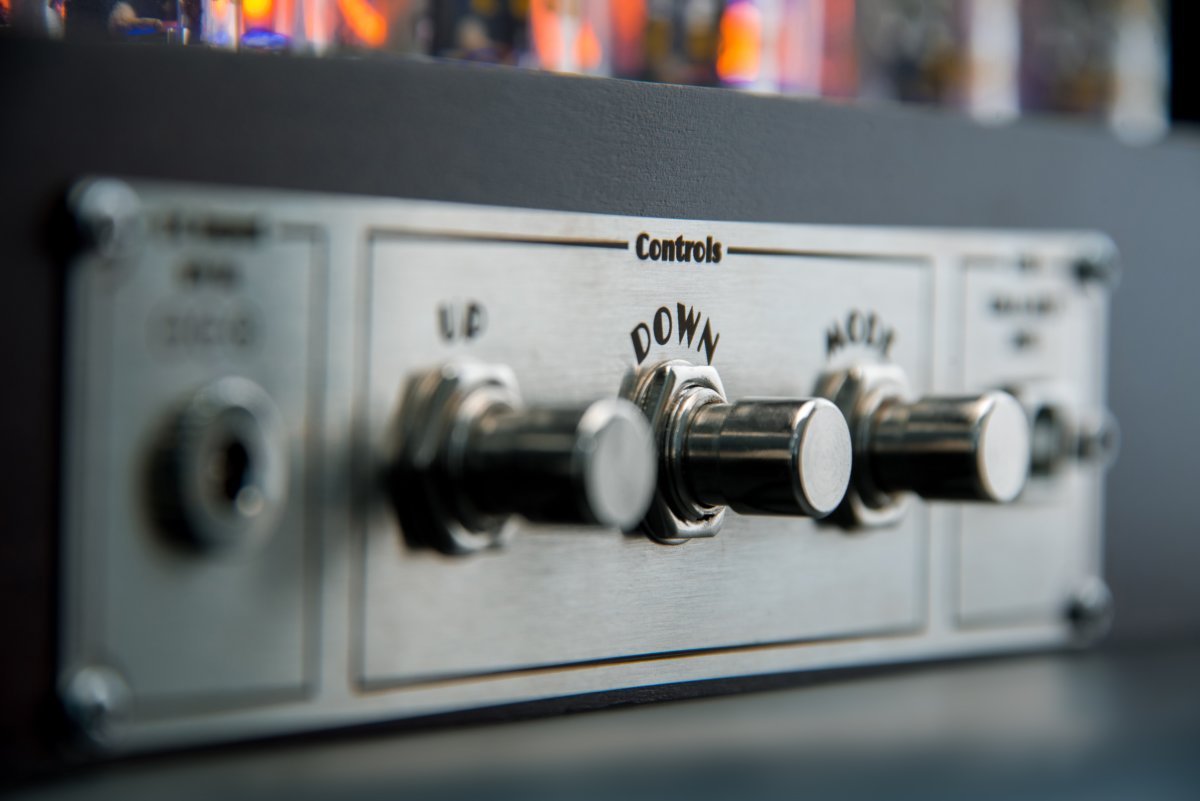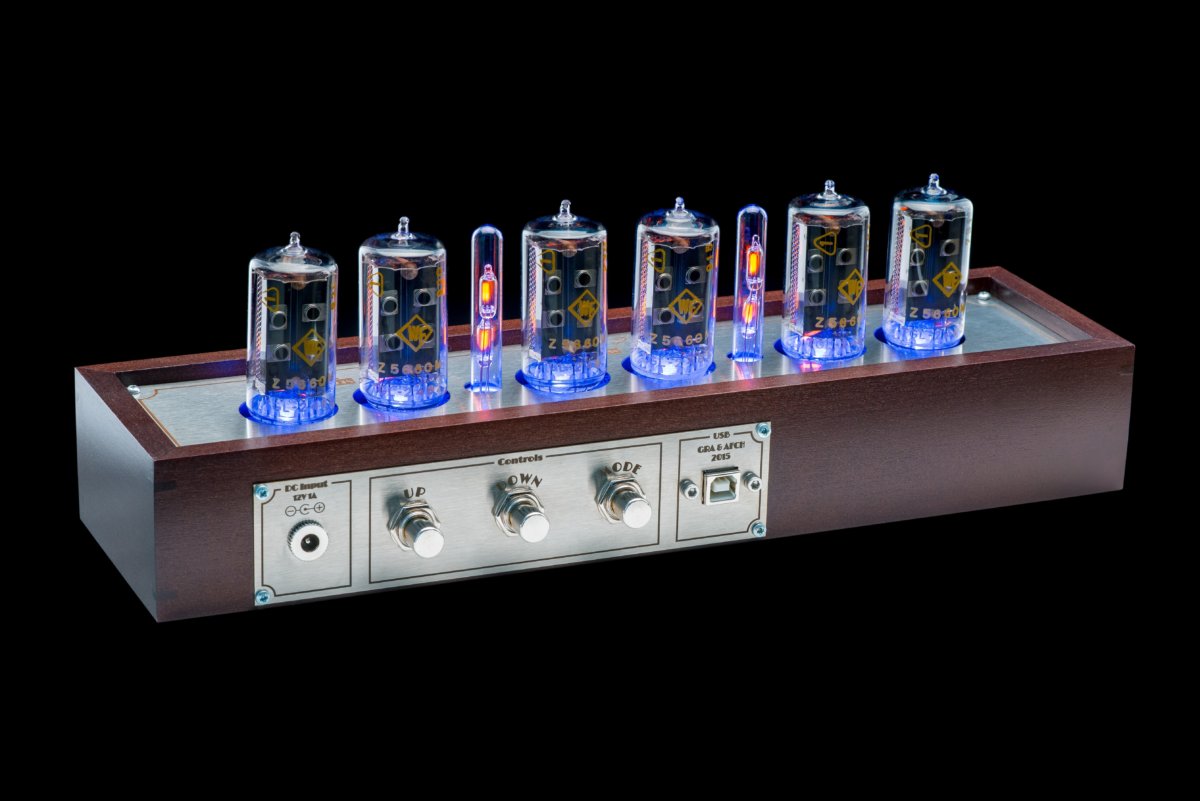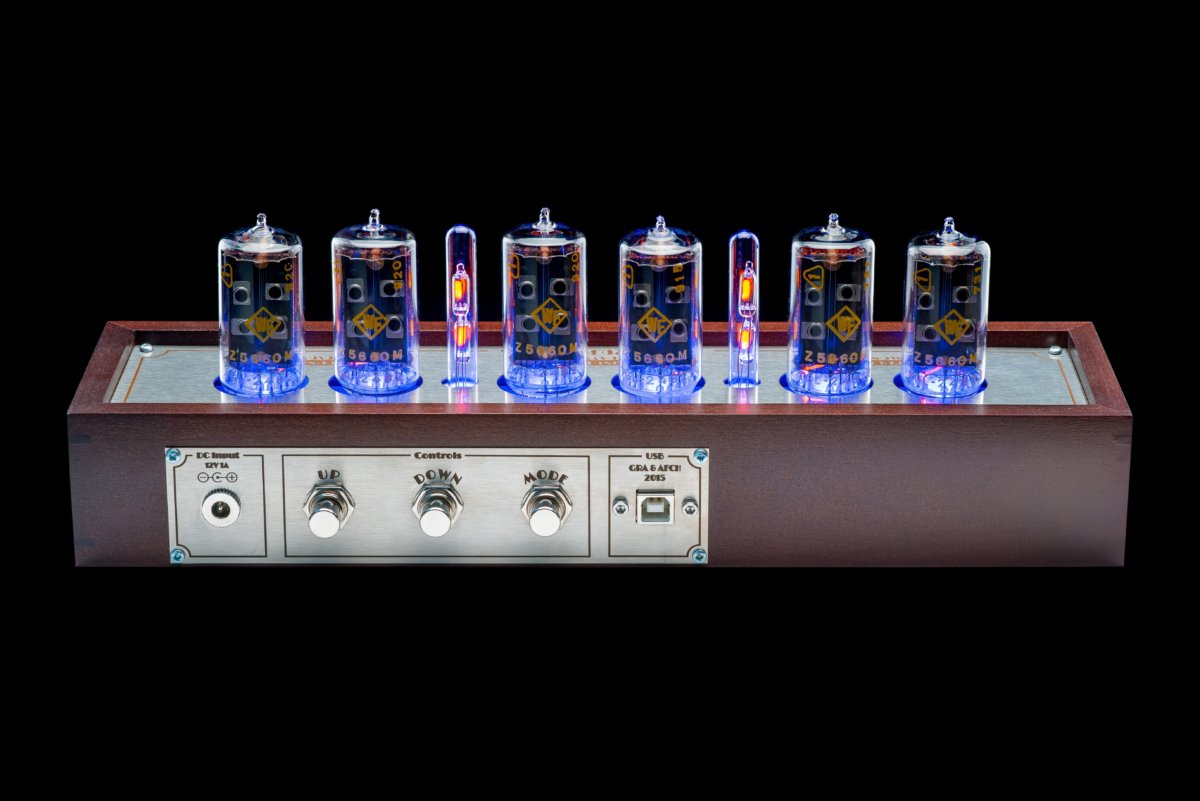 Z5660M Nixie Tubes Clocks Wooden Case Redesigned Back Panel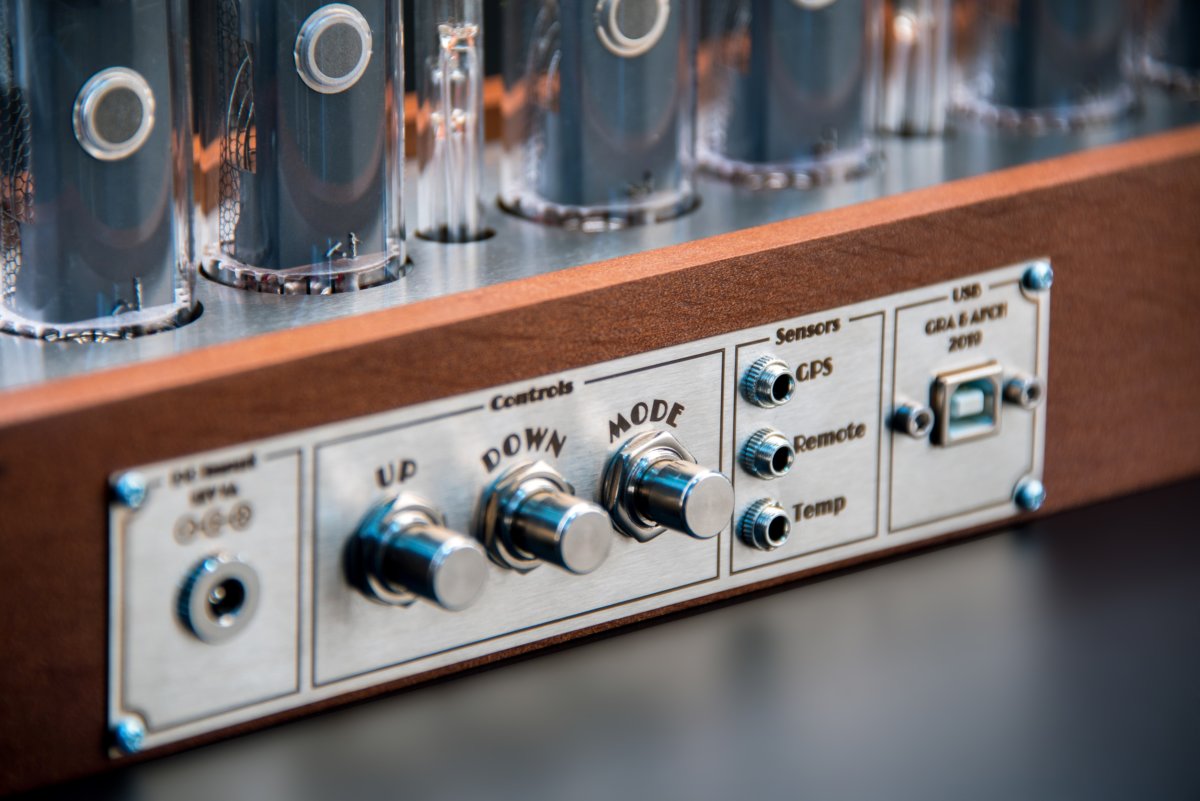 Operating Instruction